The trail to the sea

A nice walking holiday with culturalassets, non guided walking tour

5 to 9 days (3 - 7 nights) in small village-hotels

You can book this walk as a comfortable Plus**/*** package (you stay on this page) .
Almost every day you will have to do some short train transfers which are not included in the packages..

A forgotten path, even in wintertime beautiful, with all the orange-and lemon trees along the path heavy with fruit. The path goes down from the mountains to the sea, winding from one valley to the next, passing perched villages, pine trees and olive orchards. During a number of centuries, it was the main salt route, a important source or prosperity.

The path leads you along the "plus beaux villages perchés", the most beautiful high villages, of the Côte d'Azur and the surrounding country-side or Nice.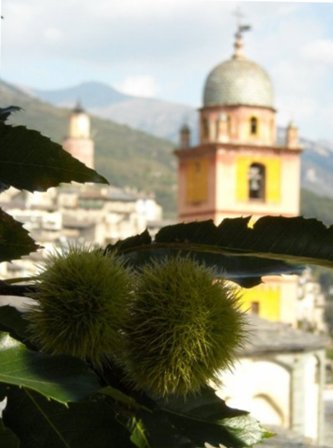 Tende


In this walk you will discover and admire the painted chapels and churches with altars painted by local painters of an interesting school, Les Primitifs Niçois.

The walk in three main lines
- An extraordinary heritage: the perched villages of the country side of Nice
- Well to do in the winter
- Beautiful trails, from the mountains down to the sea.

How to get there?

You are expected at night in La Brigue, the starting point orfthe walk, but we advise to start on a morning in Nice, spend your first day enjoying the treasures or the city, before you leave on car or train to La Brigue. La Brigue is at the railway line Nice-Cuneo. (if you want you can book a first night at BnB hotel in Nice (=extra night).

If you arrive by airplane, the airport is next to the historic centre or Nice and you can go to the railway station by bus 99.

The end of the walk is Menton. From here you can go to Nice by train to the railway station (Gare SNCF) and to the airport by bus.

There is a night-train connection from Paris to Nice.


Nice - Tende - Menton - Côte d'Azur
Walking the Haute Roya along the border or France and Italy
Not available in July and August.