More walks in Grands Causses Nature Park:
Tarn Valley and Pays de Roquefort



Parc Naturel Régional des GRANDS CAUSSES
home base of La Ligne Verte.

If you want the charms of France and avoid touristy bustle this region will assure you'll get it; it has been designated a national parc and its riches are protected.
Here you'll find breathing space for taking your time far away from hustle and bustle of modern day living while savouring the French cuisine and way of life. Aveyron and Tarn give you a traditional welcome, amid beautiful scenery, dramatic landscapes and picturesque villages. A land of stone, a land of water: gorges, valleys, lakes, rivers all bathed in sunlight under a radiant blue sky: the land would seem to have been created for out-door pursuits and relaxation.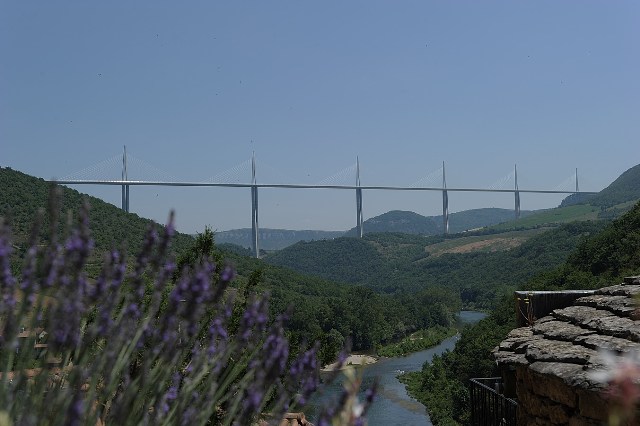 Viaduc de Millau
Close to Millau, in center of Parc des Grands Causses, worlds highest (343m) viaduct now connects the Lévézou plateau and the Causse du Larzac, as part of highway A71 from Clermont Ferrand to Montpellier, designed by the English architect Norman Foster.
Some pictures of the viaduct and the Causse du Larzac
La Ligne Verte is an owner operated, local touroperator for walking holidays. We're based in Parc Naturel Régional des Grands Causses. All year we are on the spot here in Midi-Pyrénées region to ensure outstanding service for our inn to inn holiday tours in sunny South of France.
10 Walks in the Parc Naturel des Grands Causses in the departments Aveyron, Lozère, Gard and Tarn in South of France with stays in family-run hotels. and occasionally in luxury Chambres d'hotes.
Walking tours on footpaths in a hilly and mountainous region of South-France with a great geological diversity of landscapes; centered around Millau in Sud-Aveyron and all along the (Gorges and the Valley of the) Tarn, between Cevennes Mountains in the East and Albi in the West of Tarn basin.