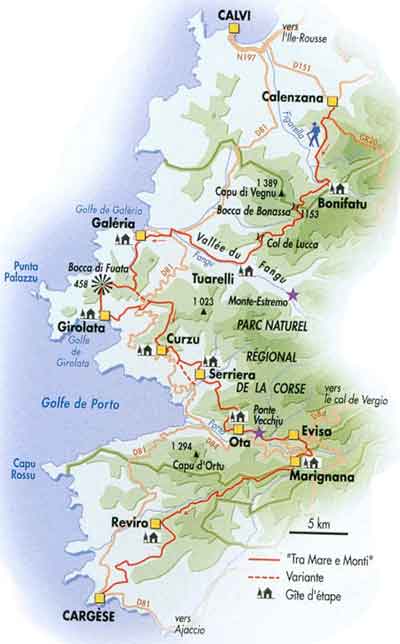 Mare e Monti Nord and Mare e Monti Scandola

Setting off from the Balagne you will head inland towards the high summits, enticing views of sweeping bays, rocky creeks and glistening waters are forever present. This holiday would appeal to anyone that is used to walking regularly and is in good shape. With eleven days of easy to moderate walking you will discover the richness of Corsica and one of the most beautiful corners of the island. Numerous pleasures are waiting to be discovered, from the high airy mountain peaks of Bonifatu, the trail leads past the reserve of Scandola an area protected by Unesco and classed as a site of world beauty. In the Gulf of Porto you stay in the unique little fishing village of Girolata which is accessible only by boat or foot.

The Mare E Monti North is available as a 13 days or as a 9 days trip from Galeria, the 9 days trip available with dormitories or with standard ** chambres d'Hôtes (one stay excepted). The walk from Calvi has one more dormitory included.



General information about Corsica

Transport on Corsica (We can't guarantee the time tables.)

How to Get to Porto Vecchio: Bus from Ajaccio, via Propiano (10H15) to Porto Vecchio .
Bus 'Eurocorse voyage' tel: 04 95 21 06 30.Departure from Ajaccio to Porto Vecchio from 16/09 to 30/06 at 8h30 or 16h00 except Sunday and bank holidays.
From 1/07 to 15/09 at 8h00 or 15h00 during the week and 8h30 or 16h00 Sunday and bank holidays. The journey takes 3h30.

Bus from Propriano to Ajaccio
Bus Eurocorse Voyage tel: 04 95 21 06 30.
Depart from Propriano to Ajaccio from 16/09 to 30/06 : 8h10 or 16h15 except Sunday and bank holidays.
From 1/07 to 15/09 at 8h10 / 9h55 / 15h45 / 16h15 during the week and 10h00 or 16h10 Sundays and bank holiday.

Bus Autocars Ricci tel: 04 95 51 08 19.
Depart from Propriano to Ajaccio from 1/01 to 31/12 : 7h15 except Sundays and bank holidays. From 1/07 to the 15/09 : 9h15 daily
Busses from Propiano back to Porto Vecchio; last bus leaves at 16:30, arrival in Porto Vecchio at 18:00h


Accommodation:
These walking tours have a variety of accommodations: hotels, chambres d'Hôtes and Gîtes with a few dormitories. See the description of the different tours for the details.

Lodging:
In hotels you'll have bathroom en suite (budget and standard package).
In chambres d'hotes you'll have private rooms with bathroom en suite.
In Gîtes you will sleep in dormitories (4 - 7 beds); standard packages 2x; plus packages 1x.

Weather:
June and September are the best months to walk on Corsica.