Individual Hiking and Walking Tours in Tarn basin from Albi through Tarn valley heading up to the Gorges and Canyons of the Gorges du Tarn.
Totally different landscapes are to be found around Tarn basin and its tributaries, streaming from Cevennes mountains to the west.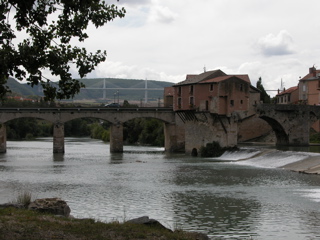 From the Spectacular Gorges du Tarn (Gorges, French for Canyons), through the friendly valley down to the plane of Tarn river at Albi, this thinly populated area hides its natural beauty in the many valleys and streams created over millions of years in the upland plains of the oldest mountain chain of Europe, The Massif Central. Here time seems to have stood still. Small, old, medieval villages are the plain remnants of rich historical legacy. Here in the most southern parts of this Massif even a one-day walking stages will offer a varied scenery.
Find here some pictures with the views on Sud-Aveyron.