---
Walks in Pays de Roquefort and Causse du Larzac ▼
| | | | |
| --- | --- | --- | --- |
| ID | | Package | |
| H28 | Round Roquefort, Sud-Aveyron 5 - 8 days, Abbaye de Sylvanès | - Plus | |
| H29 | Pays de Roquefort and Larzac Templars 5, 7, 8 or 9 days | - Standard | |
| H30 | Pays St.Affricain and Gorges des Raspes du Tarn 5, 7 or 8 days | - Standard | |
For some pictures of Pays de Roquefort you click here.
South of the Tarn river, water acting on the limestone plateaux created caves, subterranean rivers, gushing springs.The most famous of the caves is now still used for the ripening of sheep cheese: Roquefort, king of cheeses, cheese of kings. Pays de Roquefort also includes the Causse du Larzac with its restored Medieval Templars garrisons from where crusades set oput in 10th-13th centuries, and the Redlands of Camarès with its Cistercienzer Abbaye de Sylvanes. St.Affrique a small Southern town is the starting place of many walks in this walking area. The landscape exudes peace and unspoiled natural beauty. Shepherds will be your company during hours of walking.
AROUND MILLAU
CENTER OF ACTIVITY HOLIDAYS IN FRANCE
Hiking and walking in France with Baggage transfer.
Tailored and standard tours.
Small typical country inns with character and charm.
Family run hotels.
Rooms with shower and bathroom en suite.
Hotels with and without pools.
The excellent service of a local tour-operator.
Flexible: Choice of accommodation, length and level of trip.
Accommodation: budget, standard, plus, superior or luxury.
Last minute bookings: Leaving within a week.
E-booking rates and discount for parties of 3 and more.
All walks are in mobile range for phone most of the time.

---
More walks in Grands Causses Nature Park

PARC NATUREL REGIONAL DES GRANDS CAUSSES and PARC NATIONAL DES CEVENNES, home base of La Ligne Verte.
If you want the charms of France and avoid touristy bustle this region will assure you'll get it; it has been designated a national parc and its riches are protected.
Here you'll find breathing space for taking your time far away from hustle and bustle of modern day living while savouring the French cuisine and way of life. Aveyron and Tarn give you a traditional welcome, amid beautiful scenery, dramatic landscapes and picturesque villages. A land of stone, a land of water: gorges, valleys, lakes, rivers all bathed in sunlight under a radiant blue sky: the land would seem to have been created for out-door pursuits and relaxation.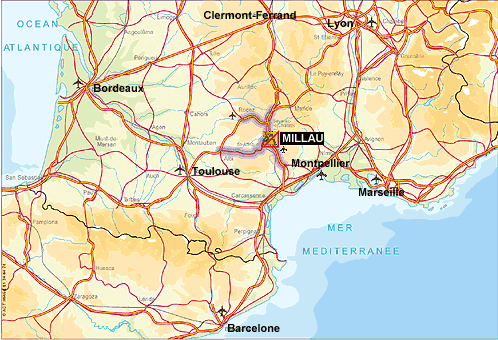 Close to Millau, in center of Parc des Grands Causses, worlds highest (343m) viaduct now connects the Lévézou plateau and the Causse du Larzac, as part of highway A71 from Clermont Ferrand to Montpellier. See the viaduct against the Grands Causses scenery !