---
---
---
Places of interest
along our walks:

Abbaye de Sylvanès
Albi
Ambialet
Aveyron
Ayssènes
Broquiès
Brousse-le-Chateau
Brusque
Camarès
Ceilhes
Conques
Cornus
Coupiac
Creissels
Entraygues
Espalion
Espeyrac
Estaing
Fondamente
Gard
Gissac
Gorges du Tarn
La Besse
La Couvertoirade
Lac de Pareloup
La Roque-Ste-Marguerite
Le Minier
Montaigut
Le Rozier
Les Douzes
Levezou
Melvieu
Meyrueis
Micropolis
Midi-Pyrénées
Millau
Nant
Pyrénées
Roquefort
St-Affrique
St-Chély-du-Tarn
St-Eulalie-de-Cernon
St-Georges-de-Luzençon
St-Izaire
St-Rome-de-Tarn
St-Victor
Salles Curan
Tarn
Tournemire
Villeneuve-sur-Tarn
Villefranche-de-Panat
Click on a circle on the map below for info on
walks in some of the best regions to walk in South of France.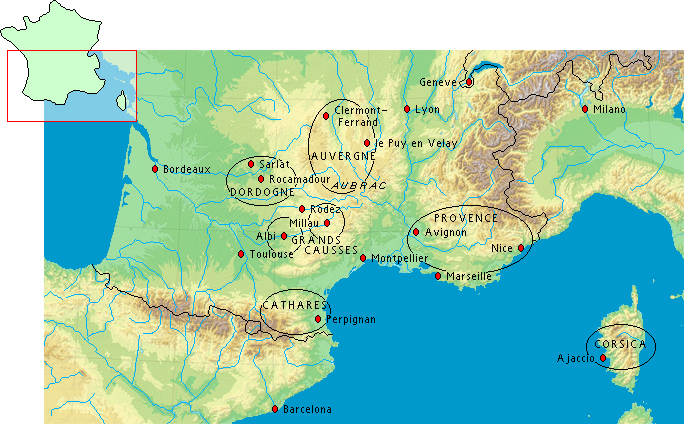 ---
Hiking and walking in France with baggage transfer.

Tailored and standard tours.

Small typical country hotels with character and charm.

Family run hotels (no chains!).

Rooms with shower and bathroom en suite.

The excellent service of a local touroperator.

Flexible: Choice of accommodation, lenght and level of trip.

Accommodation: budget, standard, plus, superior and luxury.

Important group discounts for parties/families of 3-8 persons.

Last minute bookings: Leaving within a week.

Selfguided

You walk at your own pace guided by our detailed walking notes.

E-booking rates and discount for parties of 3 and more.

All walks in mobile range for phone most of the time.
---

PARC NATUREL REGIONAL DES GRANDS CAUSSES
home base of La Ligne Verte.
If you want the charms of walking in France and avoid touristy bustle this region will assure you'll get it; it has been designated a natural parc and its riches are protected by the Région Midi-Pyrénées.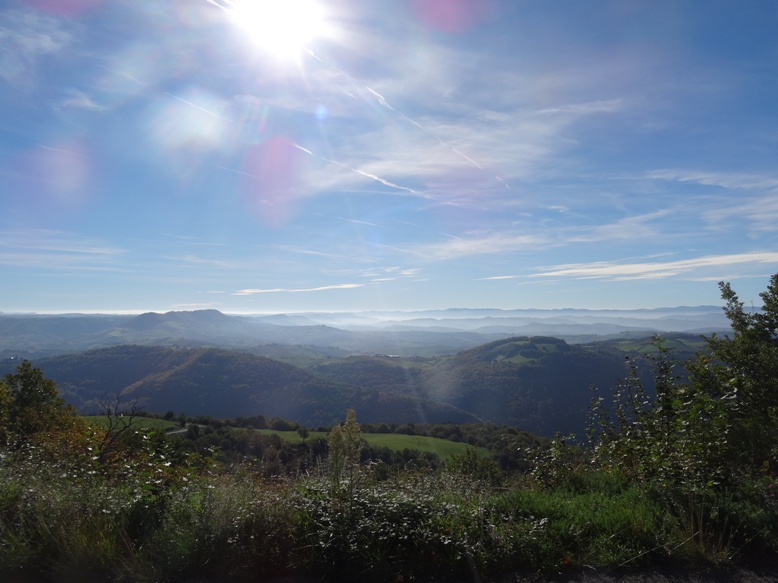 If you want to see characteristic, medieval there are many of these here with the label; "l'un des plus beau vaillages de France".
Here you'll find breathing space for taking your time far away from hustle and bustle of modern day living. Aveyron and Tarn give you a traditional welcome, amid beautiful scenery, dramatic landscapes and picturesque villages. A land of stone, a land of water: gorges, valleys, lakes, rivers all bathed in sunlight under a radiant blue sky: the land would seem to have been created for out-door pursuits and relaxation.
http://www.tourisme-aveyron.com/en/discover/aveyron-images.php
Close to Millau, in center of Parc des Grands Causses, worlds highest (343m) viaduct now connects the Lévézou plateau and the Causse du Larzac, as part of highway A71 from Clermont Ferrand to Montpellier. See the viaduct against the Grands Causses scenery !
---
Address.
La Ligne Verte BV
Dufaystraat 5-II
1075 GR Amsterdam, Netherlands
Contact (email)
Phone: +31 636 331 294
Skype: laligneverte-valac

La Ligne Verte is registered at the Chamber of Commerce of Amsterdam, Netherlands. (registration number 30.110.180)