Luxury walk in Dordogne valley & Quercy.
Luxury package (*** hotels). Dinners and lunches are not included, so you can choose your own menus.
5, 6, 7 or 8 days walking holiday in Dordogne valley with bags transfer.If you want a rest day or staying an extra night in one of the hotels of the trip you can book extra nights in any of the hotels.

Short distances: 15, 11, 18, 16, 19 (or less with a transfer), 15 km in the 8 days, 7 nights, 6 days walking trip. Light walks: elevation gains of max 130m per day.

The walk takes parts of some PR's (Petite Randonnées), the GR46, the GR652 and the GR6.

Starting day: every day.
At 4 hours travelling by train from Paris.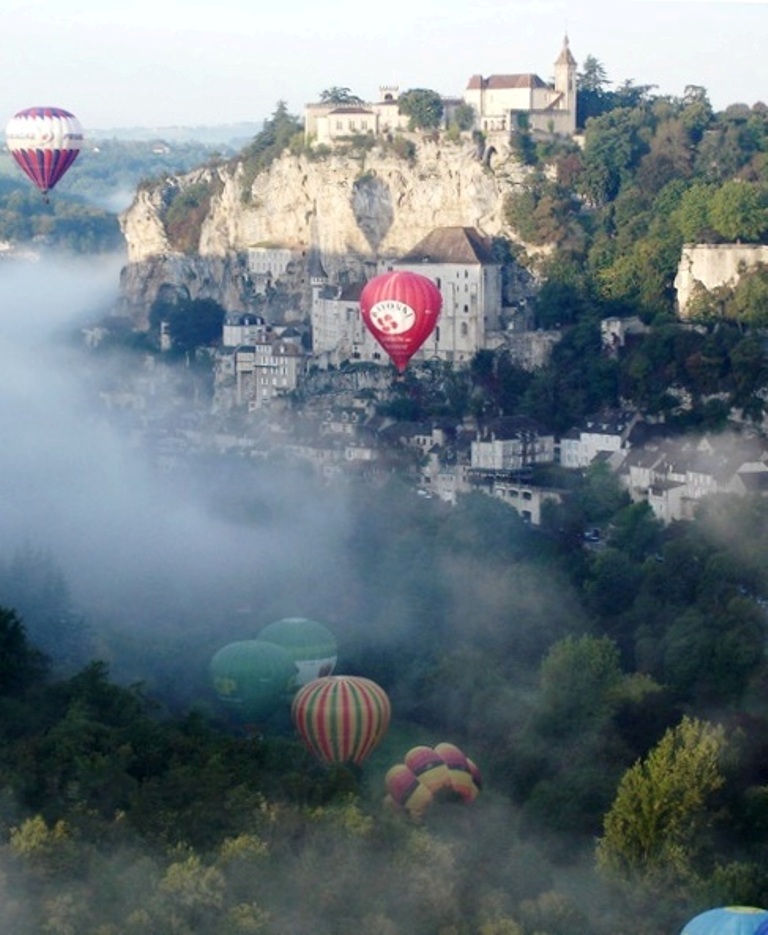 You can book extra nights (B&B) in any of the hotels of your trip: either for a rest day or for an extra walking stage (with map and guidebook).
In between the Auvergne in the North, the Pyrenees in the South, the Ardeche in the East and the Atlantic Ocean in the West flows the Dordogne. This river has since long attracted tourists from all over the world. Famous are the Gouffre du Padirac, the Caves of Lascaux and Rocamadour, an Italian Renaissance style village built against the cliff.
Diverse and light walk, where you'll find the path of the river Dordogne in the Quercy in Lot department alternated with the Causse du Quercy, a smooth and rough limestone plateau with open landscapes on the causse. Along the many walnut orchards in the Dordogne valley you have a quiet walk to Carennac an old Medieval town with beautiful centre.
After your stay in Rocamadour, the second pilgrimage site of France, you walk down again to the Dordogne valley by the beautiful small canyon of the Gorges de l'Ouysse.

Different attractions like the old train at Martel and Souillac it self with its old medieval town. After or before this walking tour you should go and see the Gouffre de Padirac and the Caves of Lascaux nearby.




In Souillac you can leave your car in a secure parking of the hotel at € 7,- per night. If you start in Meyronne, you can leave your car in front of the hotel.



Starting day: every day. Day distances: 12-19 km.Walks 90% on paths and unpaved tracks.



Daily elevation gains of 80m maximum.



This tour can also be done cycling: Short distances of maximum 25 miles.


A stay in Château de la Treyne (****) near Souillac or Lacave can be included on demand.



H37-luxury
All details luxury package, click in left column.
Two more packages of this cycling trip in Dordogne valley and Quercy available:

Dordogne valley & Quercy, light, plus package ** and *** hotels

Dordogne valley & Quercy, light, superior package *** and ** hotels