Walk on the Causse du Larzac in Templars County.
In centre of Pays de Roquefort you can visit the Roquefort caves and the Templars cities of Ste. Eulalie-de-Cernon, Viala du Pas de Jaux and la Couvertoirade.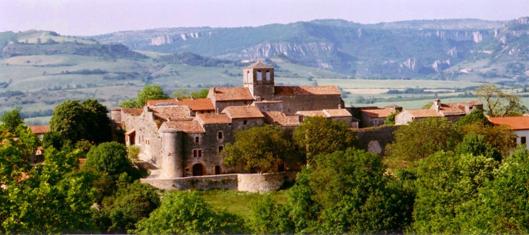 From here you'll cross part of the Plateau du Larzac and go down to green and colorfull Sorgues Valley. The next part of this walk you will be heading up to the Plateau de Guilhaumard.


Past rugged rock formations on these limestone plateaus where dinosaurs were found you'll be walking over a steppe-like landscape with fantastic colours and exceptional vegetation.
The ravine, Cirque de Tournemire, you'll pass beneath as well as to top over footpaths and at save distance of the abyss. Beautiful villages such as Ste Eulalie remind you of the late presence of the Templars.
Often you will meet the only dwellers of these causses: theshephards and their Border Collies with flocks of sheep occasionally passing small brooks walking up the Plateau de Guilhaumard.

https://www.tourisme-aveyron.com/fr
History

Many different cultures have made their mark on the area of Aveyron and the evidence of very early civilisations is shown in the stone monuments and rich architecture of the past, which include dolmens, menhirs, fortresses, fortified castles, abbeys, churches and in the rock worn out cart tracks.

The Romans were in Aveyron from 118BC. The road which linked Rodez and Millau was littered with villas and grand estates. It also connected to the Via Domitia, giving access to the whole Roman Empire. In fact Millau was one of the largest centres of pottery production in the Roman Empire.

The early Middle Ages saw the presence of the the Knights Templar in Aveyron. Rouergue and Rodez were sold to finance the Count of Toulouse's part in the 1st Crusade.

Rugged rockformations of the causses.

Roquefort village and the Cirque de Tournemire-Brias





Geology

Wide karst plateaus extend in the carbonate rocks of the Grands Causses area, north of Montpellier (south of France). They are surrounded by a hard rock base that feeds important rivers, such as the Tarn River and tributaries, and crosses the plateaus creating deep gorges. The Larzac plateau, the most southern, makes a link with the Mediterranean region. It is traversed by one of the main national roads and another main road under construction from Clermont-Ferrand to Montpellier and Spain. The karst water resource of the plateau, from springs, is used as a water supply for the Millau area (30,000 inhabitants); but it also recharges surface rivers, mainly during the summer and fall when the water level is low, in a region that is well known for water recreation activities, for fish farming and, above all, for sheep farming and Roquefort cheese production.




A walk for the walker with some experience.
Daily distances of 15 - 23 km.
Walking Grade 2 - 3 (... of 8)
Standard package 6 or 7 days (you can add extra consecutive days in any of the hotels you wish)
Plus package 8 or 9 days (you can add extra consecutive days in any of the hotels you wish)
For booking this tour, please complete our booking form.
More pictures of Pays de Roquefort
St. Affrique
H29
standard** packages

---


Basic rate in € p.p. in double room sharing. Bags transfer, maps and written route instructions included

---

2020
B & B's
Dinners
Lunches
Basic rate p.p.
2p sharing room
Supplement
July-August
p.p.
Single room
Supplement
5 days
4
4
0
€ 530
€ 2
€ 139
6 days
5
5
0
€ 617
€ 3
€ 168
7 days
6
5
0
€ 679
€ 11
€ 193
8 days
7
6
0
€ 765
€ 11
€ 228
Extra nights
B & B
Dinner
Lunch
Rate p.p.
2 p sharing room
SuSupplement
July-August
p.p.
Single room
Supplement
St.Affrique ** Pont Neuf
yes
yes
no
€ 63
€ 0
€ 21
Ste.Eulalie-de-Cernon ** Cardabelle
yes
yes
no
€ 59
€ 2
€ 27
Millau HOte du Commerce **
yes
no
no
€ 34
€ 8
€ 25
Not included: Lunches. Price of lunches (take away picknicks) : 8 - 12 EURO.

Supplement for rooms with 2 beds: € 4 per night per room
Discount p.p. for groups and families
See terms and conditions of group discounts
Parties of 3 persons : 7 % p.p.
Parties of 4 persons : 11 % p.p.
Parties of 5 persons : 13 % p.p.
Parties of 6 persons : 14 % p.p.
Parties of 7 persons : 16 % p.p.
Parties of 8 persons : 17 % p.p.
H29 Stages
5 days
6 days
7 days
8 days
la Couvertoirade ** La Salvetat du Larzac
Day
1
Day
1
Day
1
Day
1
Ste. Eulalie-de-Cernon ** Auberge Cardabelle
Day
2
Day
2
Day
2
Day
2
St. Jean d'Alcas *** Moulin de Gauty
Day
3
Day
3
Day
3
Day
3
Lauras ** Le Combalou (via Roquefort)
Day
4
Day
4
Day
5
St.Affrique ** Hôtel le Pont Neuf
Day
4
Day
5
Day
5
Day
4
Millau, Hotel du Commerce **
Day
6
Day
6
la Couvertoirade ** La Salvetat du Larzac
Day
7
Leave after breakfast
Day
5
Day
6
Day
7
Day
8
Transfers after breakfast Millau or busstation le Caylar (optional)
Day
5
Day
6
Day
7
Day
8
---
| | | |
| --- | --- | --- |
| H29 Track details | Hiking distance | Elevation gains (cumulative) |
| St. Jean d'Alcas → St. Affrique | 19 km | ↑350m↓350m |
| Couvertoirade → Ste. Eulalie | 22 km | ↑ 350m ↓ 50m |
| Ste. Eulalie → St. Jean d'Alcas | 22 km | ↑ 250m ↓ 350m |
| St. Jean d'Alcas → St. Affrique | 21 km | ↑ 250m ↓ 350m |
| St. Jean d'Alcas → Lauras (via Roquefort) | 15, 18 of 23 km | ↑ 250m ↓ 350m |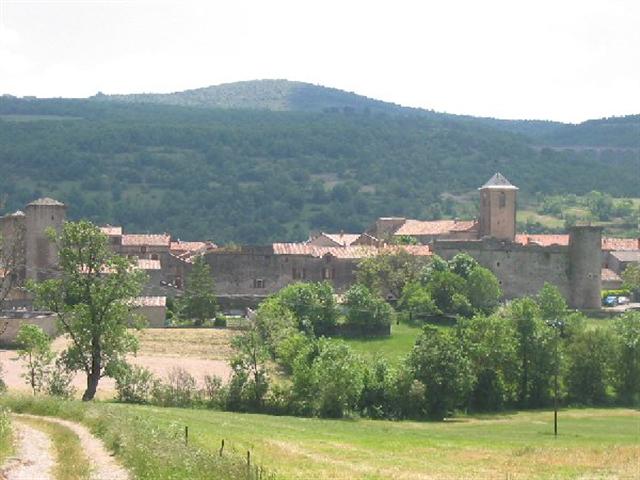 Ste. Eulalie-de-Cernon
---

French walking holidays