In this walking holiday (Plus ** and *** hotels and charming Chambre d'Hôtes) you will walk from St. Affrique through the South of Aveyron department.
You will walk past the Cistercian abbey of Sylvanès and the Medieval Château de Montaigut. This walk starts and ends in St. Affrique to the heart of the Roquefort cheese producing country of farmers and shepherds.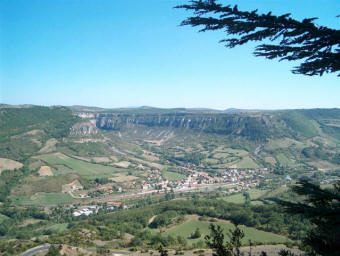 This tour is available with max 24 km walking per day.
You'll be walking in unspoiled nature (in May and June thousands of orchids) and see farming harmoniously going together. "Menus du terroir" in all places you'll pass.

South of the Tarn river, water acting on the limestone plateaux created caves, subterranean rivers, gushing springs. You will see an underground river resurging at 100m from a luxury guesthouse in Sorgues alike in Fontaine-de-Vaucluse.
The most famous of all caves is now still used for the ripening of sheep cheese: Roquefort, king of cheeses, cheese of kings as they say in France.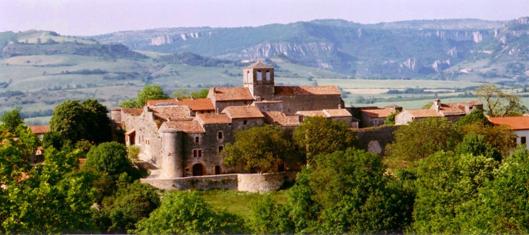 Pays de Roquefort also includes the Causse du Larzac with its restored Medieval Templars garrisons from where crusades set out in 10th-13th centuries, and the Rougiers of Camarès with its Cistercienzer Abbaye de Sylvanès. St.Affrique, a small Southern town, is the starting place of many walks in this walking area. The landscape exudes peace and unspoiled natural beauty. Shepherds will be your only company during hours of walking.
Pictures of this walk in
Pays de Roquefort.
Surf here to some pictures
of Tarn Valley.
Medieval bridge in Saint Affrique