Sud-Aveyron: Millau, Gorges des Raspes du Tarn & Valley of the Tarn

From Millau through Tarn River valley you'll walk via the Millau viaduct in a loop of several days back to Millau. Towns and interesting places along the walk:
Millau - Viaduc de Millau - St. Rome-de-Tarn - Castelnau Pégayrols - Viala-du-Tarn - Ayssènes
- Broquiès
- Brousse-le-Château- Millau. A walk through the Raspes du Tarn.


https://www.tourisme-aveyron.com/fr
Rambling on quiet footpaths is a nice way of experiencing the very divers French countryside. All along Tarn River nature will please bird- and plant- and quiet lovers.
Past and under the viaduct of Millau (a beautiful design of a British architect) you will walk into Pays de Roquefort and Tarn valley.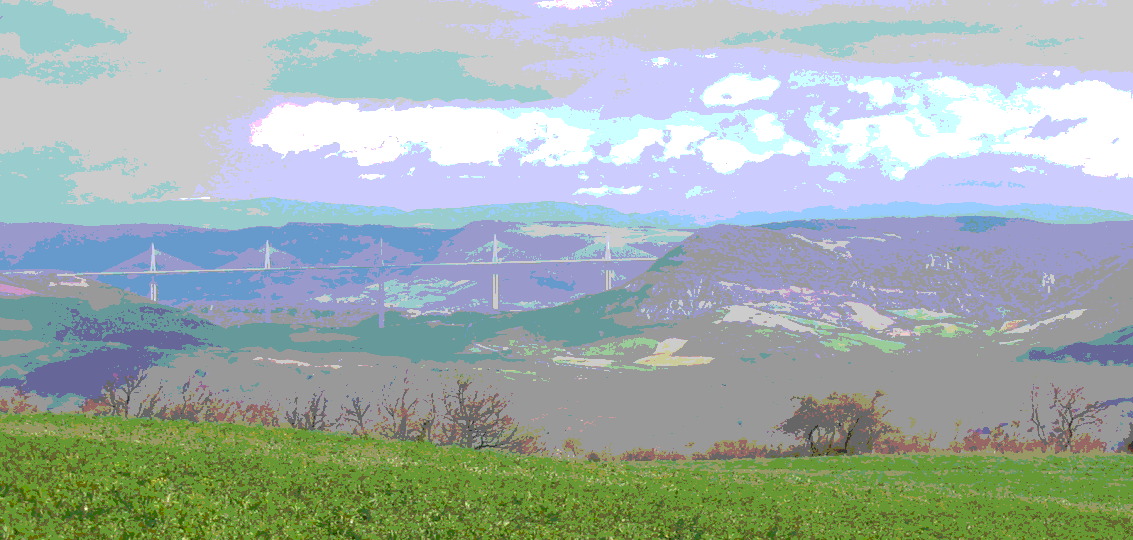 In a very diverse scenery you'll walk on the Larzac Causse to medieval towns such as St. Rome-de-Luzençonand St. Rome-de-Tarn. In Tarn valley you'll walk to a small viallages and climb to Montjaux to enjoy the views on the Cevennes Mountains and a view from above on the Viaduct of Millau. Viala-du-Tarn and Ayssènes
are other medieval places worth visiting in this walk.
In Brousse-le-Châteauand St. Izaire you will visit 9th to 15th century castles.
In the longer trips you will walk all the way to " l'un des plus beau villages de France": Brousse-le-Chateau with its 9th and 13th century castle and to St. Izaire where you will visit a15th century castle.
The hotel-keepers will pamper you with their outstanding cuisine.

Starting day: every day.
Elevation gains: once or twice 200 - 300m a day
Day distances: 11-20 km.
In this hiking tour your
Pictures of the Tarn Valley area

As with all other tours of La Ligne Verte you'll spend 90% of the walk on (single) tracks. Villages you will pass are small villages with up to 200 inhabitants. Millau is a town with 20000 people, St. Affrique is a small town with 9000 inhabitants. In between the villages, with the necessary stores, you will pass farms but will need to take your lunch with you. The hotels can provide a take away picnic (price € 8,- to € 11,-).
You will walk 3 to 4 kms an hour, except pauzes.